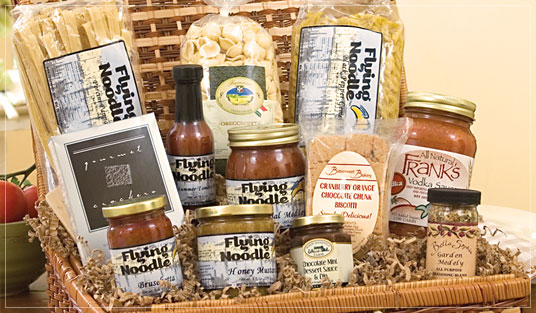 satisfaction guaranteed 100%
Roman Holiday

Gift Basket
A feast fit for an Emperor (but available to commoners like us)!
This incredible selection includes:

3 Varieties of gourmet pasta
2 Gourmet sauces
1 Specialty crackers
1 Classic bruschetta
1 Gourmet biscotti
1 Rich chocolate dessert sauce
1 Honey mustard dip
1 Zesty salad dressing
Attractively packaged in a beautiful wicker gift basket.
Also available:
Roman Holiday Combo
(same as above without gift basket)
Flying Noodle gourmet gift baskets have been the gift of choice for thousands of customers since 1995. Experience the difference of a truly gourmet experience when you order any of our gift baskets, gourmet combos, or monthly gift clubs. And remember, every item we sell is backed by our 100% Satisfaction Guarantee. If you're looking for the best of the best, you've found it! Flying Noodle - The original gourmet gifts.
You May Also Enjoy:
Order Now!
Testimonials:
"

If you love to give then this is a great way to keep giving monthly especially to distant family and friends.

"

Cosette S.D.

Brooklyn, NY

"

If you love to give then this is a great way to keep giving monthly especially to distant family and friends. If you love to give then this is a great way to keep giving monthly especially to distant family and friends.

"

Cosette S.D.

Brooklyn, NY