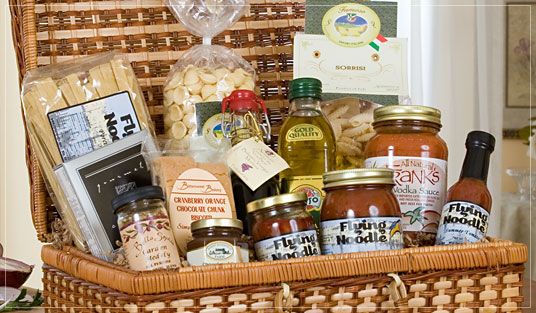 satisfaction guaranteed 100%
Magnificent Milano

Gift Basket
Indulge yourself (and your taste buds) with an Italian feast!
This magnificent selection includes:

3 Varieties of gourmet pasta
2 Premium sauces
1 Specialty crackers
1 Classic bruschetta
1 Gourmet biscotti
1 Rich chocolate dessert sauce
1 Delicious pesto
1 Select olive oil
1 Zesty salad dressing
1 Balsamic cruet
Attractively packaged in a beautiful wicker gift basket.
Also available:
Magnificent Milano Combo
(same as above without gift basket)
You May Also Enjoy:
Order Now!
Testimonials:
"

If you love to give then this is a great way to keep giving monthly especially to distant family and friends.

"

Cosette S.D.

Brooklyn, NY

"

If you love to give then this is a great way to keep giving monthly especially to distant family and friends. If you love to give then this is a great way to keep giving monthly especially to distant family and friends.

"

Cosette S.D.

Brooklyn, NY