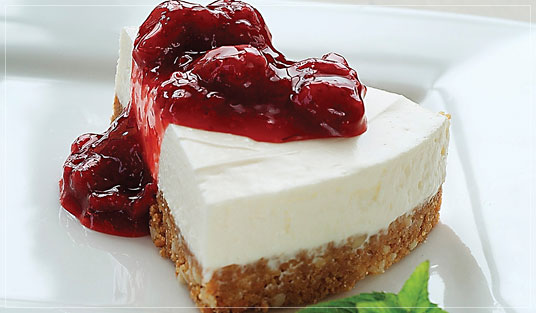 Free Shipping!
Cheesecake
of the Month Club
The Cheesecake of the Month Club is a gift of pure indulgence!
Cheesecake may have been invented by the Greeks but it has been an Italian favorite for centuries. Today there are dozens of cheesecake varieties the world over and at the Flying Noodle, we love them all!
Each month we'll send a different variety of creamy, mouth-watering cheesecake carefully chosen by our taste-testing professionals for its incredible flavor and exceptional ingredients. Each generous monthly selection is enough for 8 to 10 servings and included with each delivery is our fun and informative cheesecake club newsletter, The Cheesecake Chronicles, with information about our monthly selections, helpful serving suggestions, and more.
Choose from 3, 6 and 12 month clubs or try our Cheesecake of the Season Club with new selections each spring, summer, fall and winter. If you're sending a gift, you can send a gift announcement by U.S Mail or email. You can even print your gift announcement right from your computer. It's the perfect solution for last-minute gift giving!
We're proud to deliver some of the most incredible cheesecakes available anywhere - each made with only the finest all-natural ingredients and delivered fresh from world-class bakeries. Previous selections of our cheesecake club have included old-fashioned favorites like traditional NY Style and creamy chocolate as well as exciting new flavors like strawberry cream and banana-caramel. If someone you know can't get enough of delicious, gourmet cheesecake - the Flying Noodle Cheesecake of the Month Club is a gift they'll appreciate month after month.
Just like all of our gourmet gift clubs, the Cheesecake of the Month Club includes FREE SHIPPING and our 100% Satisfaction Guarantee. They are going to love this gift. We Guarantee it!
More questions? See our FAQ or call us toll-free at 1-800-566-0599.
You May Also Enjoy:
Order Now!
Testimonials:
"

My brother-in-law is notoriously difficult to shop for, but he really enjoys all the gifts I've purchased for him from Flying Noodle.

"

Jason V.

Athens, GA

"

I've sent gifts from the Flying Noodle and the gift recipients absolutely loved them. One couple celebrating their anniversary said it was as if they were personalized just for them.

"

Sandi C.

La Crescenta, CA

"

Giving the Pasta of the Month Club has been one of the most satisfying gift-giving experiences ever.

"

Luke G.

Joliet, IL